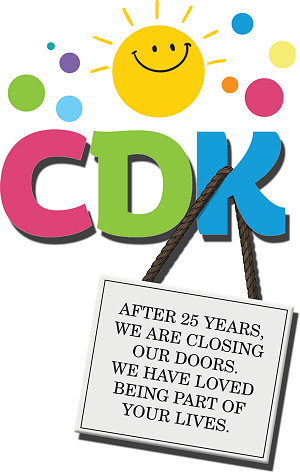 After more than 25 years, we have closed our doors. We have loved being a part of your lives.
After much thought, prayer, and consideration, we announced our retirement and subsequently closed CDK at the end of December 2022. We are so grateful to you for allowing our homegrown business to bring you critters, decor, and toys that inspire and delight your loved ones. Because of you, I (Cyndi) personally have been able to spend irreplaceable time with my family, while pursuing my passion for imaginative children's toys. While we will sorely miss you and our interactions (especially hunting down that elusive plushie), we look forward to new adventures and wish the same for you.
Please note that we are still around to assist with any final customer service needs you may have.


Contact Us
customerservice @ cdkenterprises.com
Be sure to remove the spaces around the @.
We did this to discourage bots from sending us junk. =D


In addition, please be sure to check the resource links below, which will be updated as we find additional sources. We want to be sure you will still be able to access your favorite products after CDK is closed.
Again, thank you for everything,
C
yndi,
D
ave, and
K
ids - The CDK Crew
The Lord bless you and keep you; the Lord make his face shine on you and be gracious to you;
the Lord turn his face toward you and give you peace. ~ Numbers 6:24-26